Pro Comfort Basement Carpeting
Revolutionary carpet for basements provides a warm, mold-free floor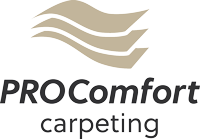 Pro Comfort Carpeting provides the luxurious feel of wall to wall carpet, in a mold-resistant construction designed for basements.
Because basements are prone to moisture, plumbing leaks, and mold problems, finding basement carpet that will last can prove to be a challenge. Traditional wall to wall carpet can trap water vapor underneath, causing mold, rot and musty odors.
Pro Comfort Carpeting installed over ThermalDry® Insulated Floor Decking™ will prevent these problems and give your a warmer, mold free, and comfortable basement floor.
This revolutionary basement carpet solution is available exclusively to Total Basement Finishing dealers. Give us a call at [phone] or click below to request an on-site design consultation and free quote from the local basement finishing specialist in your area.
Benefits of Pro Comfort Carpeting over traditional wall to wall carpet
Warmer basement floor: Pro Comfort Carpeting creates up to a 17 degree increase on floor temperature when installed with ThermalDry® Insulated Floor Decking™.
No mold or odors: Combining Pro Comfort Carpeting with ThermalDry® Insulated Floor Decking™ creates an airspace under your carpet, so water vapor won't get trapped and create musty odors. Because there are no organic materials, mold will never grow on the carpet.
Soft & comfortable floor: Integrated padding and the ThermalDry® Insulated Floor Decking™ create a soft, comfortable, luxurious basement floor.
Easy replacement: The modular design means that any damaged or worn section can be replaced without having to replace the entire carpet.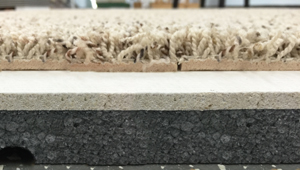 Solution for concrete floors: ThermalDry® Insulated Decking creates a warm, soft barrier between the cold concrete & your feet - and keeps your carpet mold free.
Modular design: Individual carpet tiles make it easy to replace any damaged or worn areas of the carpet - a huge advantage over wall-to-wall carpet.
Finish your basement the right way with Total Basement Finishing
If you're going to spend the time and money to finish your basement, you need products that will last for years to come. Pro Comfort Carpeting is the most durable and waterproof basement carpeting system available. You can count on Pro Comfort Carpeting to outlast traditional carpets and provide superior quality and appearance. Even better, it will be much easier to replace in the event of unexpected damage.
Call your local Total Basement Finishing contractor today to get a free estimate on Pro Comfort Carpeting for your basement.